Epson Stylus Color 600- Printer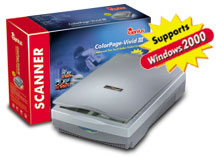 The Genius ColorPage-Vivid III is a high-convenience colour flatbed scanner with a fast, two-button operation. One of its buttons is used for scanning, and the other one you can customize for copy, fax, OCR, or e-mail functions. The bundled software also helps you complete all of your projects quickly. Create editable text from your scanned documents with XEROX's TextBridge Optical Character Recognition (OCR) software; edit, store and manage your scanned images for brochures, proposals, presentations, etc., with Adobe's PhotoDeluxe image editor.
48-bit superior color with color enhanced technology. Optical resolution 600 x 1,200 dpi, Interpolation up to 19,200 dpi.
Includes Adobe PhotoDeluxe Image Editor and XEROX TextBridge OCR software
Forget about complex scanning procedures, the ColorPage-Vivid III's two-button operation puts scan, copy, fax, OCR, or email functions at the touch of a button, no experience required.
Well, unfortunately I have had a few problems with the scanner when scanning large pictures and it seems to scan one ok and then you have to reboot the PC and switch the scanner off before you can scan the next. It works fine with smaller pictures however. We haven't really tried the OCR yet so unfortunately this review is pretty limited!
NOTE: I have since sold the printer and the new owner says they have had no problems with it so it must have been my PC!
Product details: www.geniusnet.com.tw
Download drivers for this scanner from:
www.geniusnet.com.tw/html/download.html