Epson Stylus Color 600- Printer
Genius ColorPage Vivid III -Scanner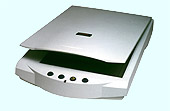 This scanner sets new standards in scanning speed. The Astra 3450 creates a prescan within 15 seconds. This is captured by the 14-bit A/D-converter that combines 42-bit colour depth (output) with a resolution of 600 x 1200 dpi. The Astra 3450 includes a transparency cover for scanning negatives and slides. The dimensions also have been reduced. With a slender size of 460 x 295 x 80 mm and weighing only 2,6 kg, it is at least 1 kg lighter and 2 cm smaller all around than its predecessors.
Another new feature is an additional Scanner button, which offers "Power Saving". This is supplementary to the three conventional buttons: Scan, Copy and Custom. The Astra 3450 come with the fast speed of USB technology along with hot-pluggable support giving fast, versatile and high quality image capture.
The Astra 3450 is an ideal scanner for the small office and home office; fast scans, simple and easy to use, attractive design and excellent quality.
Scanner type: Color flatbed
Scanning method: Single pass, CCD sensor
Light source: Cold-cathode lamp
Hardware resolution: 600 x 1,200 dpi
Maximum resolution: 9,600 by 9,600 dpi
Color density: 42 bits
Analog-to-digital converter: 14 bits per channel
Scanning resolution: Up to 9,600 dpi
Maximum scan size: Reflective: 8.5 by 11.7 inches; transparency: 4 by 5 inches
Scan modes: Color mode: 24/42 bits per pixel; gray scale mode: 8/14 bits per pixel; line art mode: 1 bit per pixel
Scaling: 1 to 1,000 percent in 5 percent increments
Highlight and shadow: 256 steps
Contrast and brightness: +/- 100 percent
Interface: USB
Operating temperature: 50 to 104 degrees F
Humidity: 25 to 85 percent
Power consumption: 12 watts maximum
Voltage: 100 volts AC
Frequency: 50 to 60 Hz
Dimensions: 18.2 by 11.6 by 2.6 inches
Transparency cover: Built-in
System requirements: Mac OS 8.1 or later, PowerPC, Power Mac G3, G4; Windows 98, Windows 2000, Pentium processor, USB port, 64 MB RAM, CD-ROM drive, 250 MB hard disk space
Software included: Adobe PhotoDeluxe Home Edition, ScanSoft OmniPage LE, Presto! PageManager, NewSoft PageType, Umax VistaShuttle, Umax VistaScan TWAIN driver
In the box: USB cable, 115-volt power adapter, Umax VistaScan CD-ROM, Adobe PhotoDeluxe CD-ROM, manual, quick-start guide
Warranty: 1 year of technical support
I have only had this scanner since April 2001 and so far so good - no problems using it and it scans perfectly every time. I'll update this review as I start using it more.
Product details: www.umax-europe.com
To download drivers for this scanner go to www.umax-europe.com and select "Tech Support" and then "drivers".