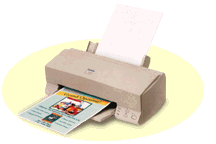 Technical details
This printer was one of the worlds first 1440 dpi colour inkjet printer. Epson advances PhotoReal® colour printing without the need for expensive inks or optional upgrades. The printer is aimed at the home and business user, providing vibrant images and true black mono printing for crisp, laser sharp text with print speeds up to 4ppm in colour and a fast 6ppm in mono.
It produces superb PhotoReal® quality output with the ease and style synonymous with EPSON's leading edge MicroPiezo printing technology.
The EPSON Stylus Color 600 incorporates EPSON's AcuPhoto Halftoning Technology for accurate colours and smooth gradation through improved ink formulations, the new EPSON Quick-Dry Inks. The new fast penetrating ink provides better quality output on all media, especially plain paper.
The Stylus Color 600 comes with both a fast PC parallel and Apple Mac serial port as standard, for total flexibility of connectivity in the office and home environment. The new printer driver includes a video/digital camera mode which automatically selects the optimum settings for imported images. The Stylus Color 600 also features EPSON's 'Auto-Colour' function which intelligently scans the page to be printed and automatically selects the best settings for each item (image, text, graphics) to ensure optimum colour print quality on each print out.
Provides superb quality photos and we much prefer this printer (over our other printer - the HP 720C) for printing photos. Although it is slower than newer printers this doesn't really matter as we are never in such a hurry to print anything out!
It is easy to load the paper and will accept envelopes, photo cards, banner paper etc.
The only problem we have had with the printer was partly our own fault. We started using cheaper, non-epson ink cartridges and think that this clogged the print head up. We had only had the printer a year when it stopped working. We had to have a new print head fitted which could be expensive (ours was still under warranty). Be aware that if you use the cheaper ink cartridges then it may invalidate your warranty on the printer.
I am not sure if this printer is still available now but it is still worth buying one second hand if you can, as you will probably pick one up quite cheaply now.
Links
What the press say: www.epson.co.uk/press/release/jan97.htm
Download printer drivers from: www.epson.co.uk/support/download/inkjet.htm
Look for one of these printers on the QXL Auction site:
QXL Home Page