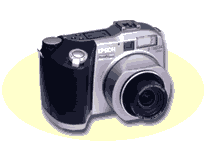 Technical details
Here's the technical info on this superb digital camera:
The PhotoPC 850Z is a 3 MegaPixel digital camera with 6x zoom ideal for professional photographers and advanced business users. The PhotoPC 850Z has been designed with professional photographers in mind but is equally at home being used in business or by photographers of all levels. With quality output that rivals traditional 35mm silver halide this camera provides all the features of traditional photography combined with the advantages of digital output.
The PhotoPC 850Z has a host of features to give great flexibility and control over the photos you take. These features include: manual exposure, exposure compensation, spot metering and divided brightness metering; manual shutter speed, aperture settings, focus and white balance adjustment; black and white; panoramic; macro; sensitivity adjustment; leading-sync and slow-sync flash; hotshoe; quick take mode; continuous shot mode; self timer; focus lock.
Even more advanced features such as, direct print, sound recording, time lapse, LCD for review, program and file upload capability and video output, makes the EPSON PhotoPC 850Z the most advanced, powerful and controllable digital camera available.
The PhotoPC 850Z comes as standard with high capacity rechargeable NiMH batteries and battery charger and an 8MB CompactFlash card.
We find it very easy to use and the resulting photographs are of a superb quality (make sure you've got a printer capable of printing out these photos at a high resolution or you just won't appreciate how good it is).
We usually use the camera on its second resolution setting and find that this produces images of a very high quality. One of the reasons we bought this particular digital camera is that you can use both the LCD screen and the viewfinder and the camera can use interchangeable lenses. The price may be a put-off (we paid £629.99 in 2000) but it has been worth every penny and is still comparable to other high-range digital cameras with as many features.
We have had a few problems with the software that is used to download the images to the PC and it seems to hang quite frequently. You have to save each individual image to the PC as opposed to selecting the "save all" function. We are not sure if this is a problem with a) the USB port, b) the software or c) our PC - running Windows 98. We hope to resolve this problem when we rebuild the PC.
One solution we have found to this problem is to use our HP Photosmart P1000 to download the images from the memory card direct to the PC and this works 100% of the time!
The best thing about a digital camera is that you can take the pictures, download them to your PC and email them to your friends the same day. We went one better than this recently and took some photos at a wedding. We went back to the evening reception with a photo quality A4 picture mounted and framed! Everyone was well impressed.
A lot of the photos that are on this Web site were taken with our camera, though we have had to reduce the resolution and colour-depth to make them small enough to fit and not take several minutes to download.
Links
Visit the following links for more details:
Technical info: www.zdnet.com/supercenter/stories/specs/0,12071,190053,00.html
Download the drivers for this camera from:
www.epson.co.uk/support/download/camera.htm
What the press say: www.epson.co.uk/whatsnew/press/photopc850z.htm