This is the hobby of my "other half". I am just the long suffering "radio-widow" who has also had her garden overtaken with aerials - he even turned my rotary washing line into an antenna mast !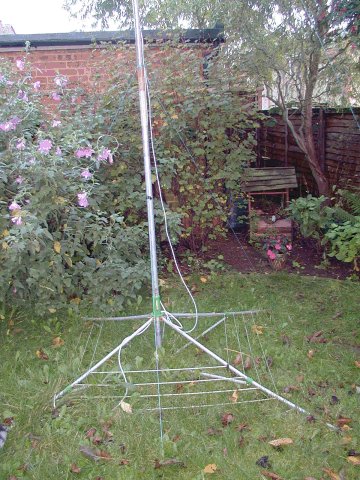 "My ex-washing line ", (But my antenna mast - Alex)
Visit Alex's web site at www.hamsoftware.co.uk where you can download Alex's own free software that he wrote called "UITools". UITools is an add-on for UIView32. Visit the UIView website for more details of APRS (Automatic Position Reporting Software).
Alex is about to release his own Satellite tracking program - watch this space for more info!
Alex's call-sign is "G7JGQ" for those who want to talk to him!
Another Amateur Radio Web site to visit is http://go.to/APRSUK
The Linux (not very) Technical Ham Pages can be found at: www.qsl.net/g0tvj/