Our Cats
Choosing a Cat/Kitten
First Intros
Handling
Litter Training
Feeding
Scratching Posts
Cat Flaps
Collars & Tags
The Problem Cat
Spaying/Neutering
Breeding
Kittening
Post-natal care
Raising Kittens
Fleas
Vaccinations
Vets Bills
British Blue Cats
Pet Insurance
Cat Pictures
Cat Humour
Links

So True ....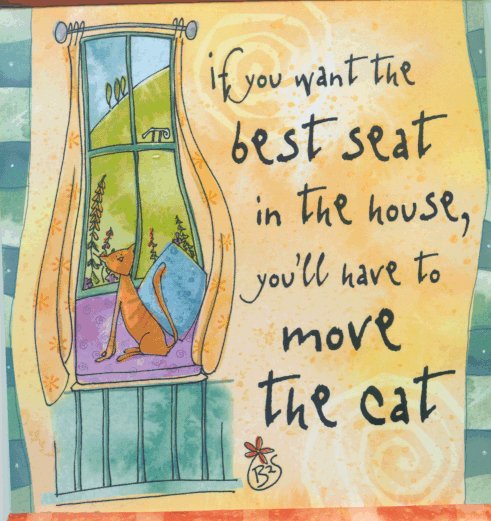 Cat Talk ....
| | |
| --- | --- |
| Cat Phrase | Meaning |
| Miaow | Feed me |
| Mrooww | I love you |
| Miaowmiaow | Play with me! |
| Mioawmioawww | Since I cannot find anything better to play with, I shall see what happens when I sharpen my claws on this handy piece of furniture! |
| roww-maww-roww | I'm so glad to see that you have returned home with both arms full of shopping. I will now rub myself against your legs and attempt to trip you as you walk towards the kitchen. |
| gakk-ak-ak | My digestive passages seem to have formed a hairball. Wherever could that have come from? I shall leave it here on the carpet. |
| mmeww | I believe I have heard a burglar. If you would like to go and beat him senseless, I shall be happy to keep your spot in the bed warm! |
Makes you Wonder ...