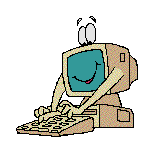 Ok, so you may be wondering why I am offering advice on Web Design & Building. Well I am just providing links to some useful sites to visit that will detail the professional approach to creating a Web site and sites where you can get that all important Domain name. So read on as there may be something to help you create your own Web Site.


I was a great believer that you should get a Web Site up and running asap regardless of the content so that you would be "seen" as soon as possible. This can, however, backfire on you!
Think about it - you go to a Web site and find a subject you are interested in and the particular page is a little disappointing with a message saying "under construction" and has little content. Do you a) instantly hit the back button and go searching for a new site or b) bookmark the page and think "I'll go back there soon and see if it it finished yet!". Ok, so how many of you chose option b) - not many I expect. If a Web page cannot offer you the information you want right now then you are very unlikely to bookmark it and go back again at a later date.
I made this mistake (and am still making it) with my Web site as I was anxious to get at least something up and running and some of the pages contained little information of the subject of interest - e.g my "cats" page only contained pictures of my cats - and this is not what people want.
I am in the process of correcting this but was also wary of removing any existing pages (that weren't 100%) as visitors do not like to find pages deleted even if they contained little information.
So my advice to you (and I am now taking it myself) is to not publish a page until you are 90% happy with it and are sure that visitors can gain something from it.

Looking for a Domain name then try this site. This is where I purchased my Domain name mismatch.co.uk.
On the site you will be able to enter your chosen Domain name and then you will be able to find out if the Domain name is free with varying Domains (e.g. .com, .co.uk, .net, .org, .org.uk). You can also see who has bought that Domain name that you so badly wanted (I was unable to buy mismatch.com as it had already gone!)
The cost (as at Feb 01) for 2 years is generally as follows:
£35 for .net, .com and .org Domains and
£9.99 for .co.uk and .org.uk Domains
Click below to search for your ideal Domain name:

Web Hosting Sites
Check out "Active ASP" to see if they are suitable to host your Web site.


You really can earn money while you sleep if you sign up to an affiliate program.
There are two main ways of earning commissions -
1) Add a link to your Web site and make money from each person that clicks on your link.
or
2) Add a link to your Web site and make money from each sale that is generated from the link.
Each affiliate program has its pro's and con's and you need to read all the small print to see if the program is appropriate for you and your site. Most sites do not pay the commission until you reach a minimum amount (usually between £25 and £50) and this may take some time if you only have a small site and not many visitors.
I have joined a few affiliate sites and will let you know how I get on!
Don't expect to get rich quick from these programs but they may provide an additional income for your site if you are prepared to add links to your site.

Sites Offering Affiliate Programs
There are hundreds of sites offering Affiliate programs but some of the more popular sites offer them too. Click on these links to take you directly to the Affiliate program information:
Trade Doubler
Visit Tradedoubler to register for loads of affiliate programs. View the individual terms and conditions to see how much money you can make and any restrictions.

Here are some site offering a variety of tools to not only help you build your Web site but maintain it and get it submitted to search engines.

A useful site for everything Web design related. There are lots of free tools on the site and one of the most useful tool I use of their site is "Hitbox Doctor". The following are FREE services:
HitBox Doctor
Maintain your web site performance. Shows you how long a page takes to load, points out HTML errors, shows you missing links and allows you to reduce the size of images.
HitBox Submit
Promote your web site. Submit to 17 search engines.
HitBox Image Reducer
Shrink the size of your GIF and JPEG images
HitBox Meta Tag Generator
Create/improve your Meta Tags and rank higher in search engines.
HitBox.com delivers tools, technologies and resources to webmasters. It is designed to serve two primary functions:
1) to act as a webmaster community/portal and
2) to be home to the HitBox line of Internet-based Web audience analysis services.
The objective of HitBox.com is to be the first place webmasters go to find tools and resources to improve their Web presence and to interact with other webmasters.

Features
Technologies, tools, and services
Internet-based Web audience analysis services:
HitBox Enterprise - A powerful Internet audience intelligence service for e-businesses. HitBox Enterprise is designed for enterprise-class sites that are serious about understanding their visitor traffic, and who demand the highest levels of quality and reliability.
HitBox Pro - A pay version of HitBox that requires no banners or buttons
HitBox - The most popular Web audience analysis service available with more than 350,000 subscriptions to date. It is offered for free to independent Web sites in exchange for a small button displayed on every page monitored
Web tools:HitBox Search - Visitors can search any site that uses this tool
HitBox Polls - Allows webmasters to poll visitors
HitBox Submit - A service at HitBox.com that allows webmasters to submit their site to multiple search engines at once
HitBox Doctor - Reviews the HTML design, spelling, load time and other aspects of Web design issues. It also provides recommendations for improvement
Site rankings through HitBox technology Webmasters who subscribe to the free HitBox service are automatically ranked at Yep.com (http://yep.com), a next-generation search engine that ranks sites using the HitBox technology. These rankings are based on the number of daily visits a site receives. These rankings provide Webmasters with a valuable venue to promote their sites.
With its leading line of Web audience analysis services, innovative Web tools and informative stories, HitBox.com has emerged as a valuable resource for the owners of independent Web sites.
Easy to install - Joining the HitBox.com community is easy. It involves filling out a short form and implementing the HitBox code on a Web site. Once finished, HitBox will begin monitoring site traffic right away.
Support - WebSideStory's products and services are time-tested, proven tools for webmasters. To support its products and services, WebSideStory has excellent customer support and service.


I found a lot of useful Java scripts on this site and they are all free. The random lottery number script was downloaded from this site and they also provide such utilities as search engines, utilities to check your Web site and many categories of scripts such as banners, games, music, sound, utilities, multimedia etc. etc.
Click on the banner above to go to their home page or click on the link below to go direct to their Java script download page:


This script will test your webpage in 7 different categories! They are (1)Browser Capability (2)Use of Meta Tags (3)Load Time (4)Dead Link (5)Link Popularity (6)Spelling (7)HTML DESIGN!! It rates those categories with 4 ratings (excellent, good, fair, poor). Check this out, really will help your site!

---


If you have Satellite TV then check out ".tv". One of the best programs it does is "Masterclass". This provides all sorts of advice and tips on using both software and hardware.
They have question & answer sessions and talk you through using software products for the first time. They do some excellent shows about building Web sites so it is well worth a look.