An excellent game - what more can I say? I never really got into the other Sim games such as Sim Life, Sim City and Sim Ant but this game is so much fun. Basically you control the lives of the people living in your Sim neighbourhood and decide their fate and standard of living. You even have to build their houses for them (or download some ready built from the Web site). You can even control their sleeping, eating, playing and hygiene - yes that includes taking showers going to the toilet!
You 'teach' them things such as washing their hands after going to the loo and tidying away the plates when they have finished eating. Alternatively you can let them live like slobs and see what happens. You invite other Sims round from the neighbourhood and hence build friendships, love, hate or even marriage. You can even adopt a baby Sim.
Get 2 Sims to fall in love, bring in a 3rd person and get them all friendly and watch as one of them slaps the other for trying to pinch their loved one! Very funny.
There are 4 add-on toolpacks so you can now do even more with your Sims.
Please be aware that you cannot run the add-on packs on their own - you must have already installed the original "Sims" game.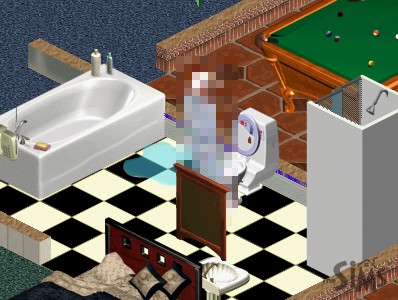 Of course, the poor man can't be actually seen whilst going to the loo!
Links
Visit the official Web Sites for free downloads, cheats, chat rooms etc at: www.thesims.com or www.thesims.co.uk (Note these are 2 different sites so contain different downloads etc.).
For an additional review of the game:
www.pcgameworld.com/reviews/s/sims/printable.htm
For a strategy guide:
www.pcgameworld.com/cheats/s/thesims/sims_a.txt
Other sites:
Cheats
Only click here if you really want to cheat!