This is another one of my favourite games. I used to play "Theme Park" on the Playstation but since this game came out I have been hooked.
You are basically the owner of a Theme park and you have to design and build the park either from scratch (on a plot of land) or by loading an existing park and making it work!
You can construct your own roller coaster rides, choose from a range of pre-built designs or download new ones from the Web site. You have to monitor the rides to ensure they are safe to ride on and employ mechanics to do this for you. You also have to keep the guests happy by providing facilities, food, drink, side-shows and make the park attractive with a wide range of fountains, trees, plants, statues, colour themes etc. You also need to make sure that your guests don't get bored by queuing too long for each ride.
The graphics are superb and you can zoom in and out to get greater level of detail. You can click on each guest in your park to find out how they are feeling, how much money they have to spend, how happy they are and what they want to do - e.g. eat. drink, sit down, go home. You can track the person around the park or even pick them up and put them down near the facility or roller coaster they want to be on.
Each scenario has a mission statement which is usually to get x number of people in the park and make a certain amount of profit. If you fail then you have to start again. Each time you complete a particular scenario, you get extra ones to choose from.
If you are an avid fan (or just sad like me!) then you can buy 2 add-ons (a 3rd is on its way soon) :-
The "Added Attractions Pack" - gives you an extra 30 pre-set scenarios, new scenery, landscapes, animations, music, shops, stalls, themes and of course roller coasters!
The "Loopy Landscapes Expansion Pack" - gives you more rides from Rocket Ships and Medieval Castles to Winter Wonderlands and new environments. Build on new landscapes, provide more shops and stalls or take on one of 30 new scenarios filled with new exciting challenges. NOTE: This expansion pack also includes the "Added Attractions Pack" so if you haven't bought either of these 2 add-ons yet then you may as well buy "Loopy Landscapes Expansion Pack".
Both of these add-ons requires a copy of the main RollerCoaster Tycoon game to play.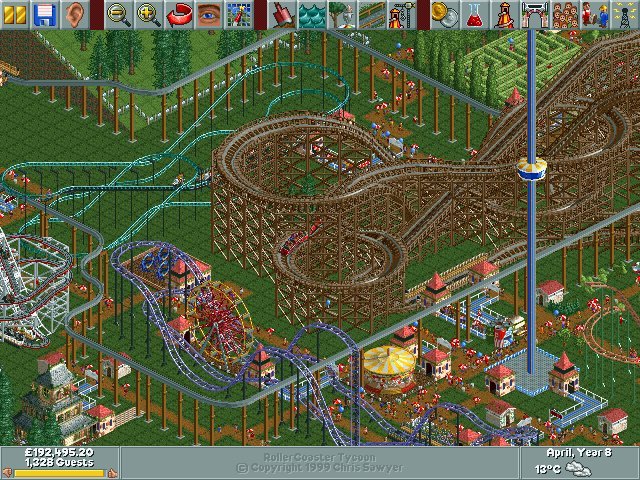 This screenshot is taken from one of my theme parks.
Links
Visit the Web Site at www.rollercoastertycoon.com, for free downloads, hints, cheats and the chance to upload your own custom built roller coaster.
For a strategy guide:
www.pcgameworld.com/cheats/r/rollercoastertycooncorkscrewfollies/rollercoaster_tycoon.txt
F.A.Q.'s:
www.pcgameworld.com/cheats/r/rollercoastertycoon/faq.htm
Cheats
Only click here if you really want to cheat!